Boutique Hotel Luxury.
Fort Lauderdale Fun.
As Fort Lauderdale's first true lifestyle hotel, The Dalmar builds on the city's storied history as a sun-soaked South Florida playground, infusing it with modern-day must-haves. Think stunning event spaces, restaurants and bars that showcase the region's tropical flavors, and sophisticated guest rooms and suites where mid-century glam merges seamlessly with high-tech essentials.
Meet your Mixologist

Looking to up your cocktail game? Look no further than the Meet Your Mixologist event at the Dalmar Hotel. From Thursday through Saturday at 5:00pm-5:30pm, join us at the Lobby Bar for a complementary, behind-the-bar learning experience with our Sparrow Mixologist. During this interactive event, you'll get to learn how to make a drink and impress your friends with your newfound mixology skills. Reserve your spot at the front desk and get ready to shake, stir, and sip your way to cocktail perfection.

Dalmar Gelato Experience

Indulge in a complementary delicious sweet treat at the Dalmar Gelato Experience, offered daily at the Lobby Bar from 3:00pm-3:30pm. Chef Anna's homemade gelato creations are not to be missed. Made with only the freshest ingredients and bursting with flavor, these desserts are the perfect way to treat yourself during your stay at The Dalmar. Whether you're in the mood for a classic flavor or something a little more unique, you're sure to find something that satisfies your sweet tooth.

dalmar experience dining img

Dining

From pressed juices and specialty drinks at Rose's Coffee Bar to poolside snacks at Sip 'n Dip, The Dalmar delivers five flavorful ways to satisfy your cravings. Get together with friends at our Art Deco-inspired Lobby Bar, enjoy rooftop drinks at Sparrow, or enjoy chef-prepared cuisine in a stylish setting at The Terrace Grill — the openings are endless!

dalmar experience the pool bg

The Pool

A warm breeze, a saline pool, cabanas for R&R - our Pool Deck is its own star. Soak in the sunshine, go for a swim, or order another round of refreshing drinks and lite bites from Sip 'n Dip. Lounging at the pool is for guests only, but all are welcome to enjoy Sip & Dip, our poolside bar and grill.

Contact foodanddrink@thedalmar.com to reserve one of our private cabanas. Rates start at $250.00 plus tax per day.

Yoga Joint

Whether you're new to yoga or vinyasa is already part of your daily flow, Yoga Joint's downtown location at The Dalmar hotel makes it easy to sneak in a stretch during your stay. Sweat it out in their heated studio with signature classes for students of all levels, including Fusion FIIT, Fusion Flow, and Fusion Restore.

dalmar homepage header 01

Fitness Studio

Take advantage of our hotel's state-of-the-art Fitness Studio, outfitted with floor-to-ceiling windows and plenty of natural light! Choose from a selection of elliptical machines, treadmills, free weights, and the popular Peloton bikes among other equipment designed to keep you on top of your health and wellness game.

dalmar experience beach 1

The Beach

Let us whisk you away to gorgeous Fort Lauderdale Beach, where you get exclusive access to two beach chairs and a beach umbrella at the sun-kissed sands. Our beach shuttle takes you there, departing every hour on the dot from our valet stand.
Reasons to Stay
Reimagined
Luxury
Stunning event spaces on the terrace, by the pool and in the ballroom. Take your pick.
Reasons to Stay
Reimagined
Luxury
An urban escape with a world of irresistible wonders indoors and out.
Reasons to Stay
Reimagined
Luxury
We're a match for your morning routine – whether it's yoga or a meeting in the nearby Financial District.
Reasons to Stay
Reimagined
Luxury
Sleek, stylish rooms with special design touches and spectacular views.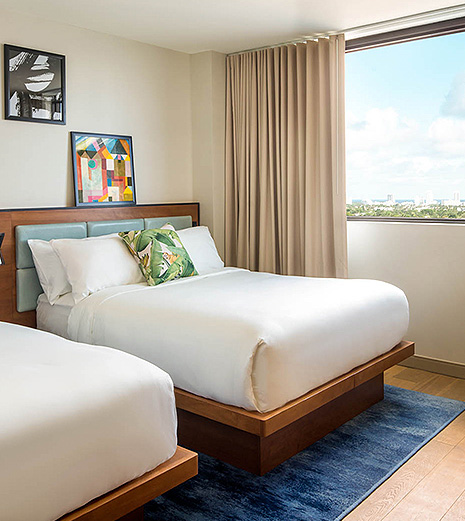 Reasons to Stay
Reimagined
Luxury
Tech to make your stay effortless, including key-less entry and an iPad in every room.
Hotel Amenities
Wi-Fi
(Bonvoy Member Exclusive)
16,000 sq. ft. of event space
Saline swimming pool (6th floor)
The Terrace Grill restaurant
Sparrow rooftop bar
Rose's Coffee Bar
Lobby Bar
Sip 'n Dip poolside bar and grill
Yoga Joint